Atenveldt Submissions (excerpted from the S.C.A. College of Arms' Letters of Acceptance and Return)
Registrations and Returns,November 2020
Registrations and Returns,October 2020
Registrations and No Returns,September 2020
Registrations and No Returns,August 2020
Registrations and Pends,July 2020
Registrations and Returns,June 2020
Registrations and No Returns,May 2020
Registrations and Returns,April 2020
Registrations and Returns,March 2020
Registrations and Returns, February 2020
Registrations and No Returns, January 2020
Registrations and Returns,December 2019
Registrations and Returns,November 2019
Registrations and Returns,October 2019
Registrations and Returns,September 2019
Registrations and Returns,August 2019
Registrations and Returns,July 2019
Registrations and Returns,June 2019
Registrations and Returns,May 2019
Registrations and Returns,April` 2019
Registrations and Returns,March 2019
Registrations and Returns,February 2019
Registrations and Returns,January 2019
Registrations and Returns,December 2018
Registrations and Returns,November 2018
Registrations and Returns,October 2018
Registrations and Returns,September 2018
Registrations and Returns,August 2018
Registrations and Returns,July 2018
Registrations and Returns,June 2018
Registrations and No Returns,May 2018
Registrations and Returns,April 2018
Registrations and Returns,March 2018
Registrations and Returns,February 2018
Registrations and Returns,January 2018
Registrations and Returns,December 2017
Registrations and Returns,November 2017
Registrations and No Returns,October 2017
No Registrations and No Returns,September 2017
Registrations and No Returns,August 2017
Registrations and Returns,July 2017
Registrations and Returns,June 2017
Registrations and Returns,April 2017
Registrations and Returns,March 2017
Registrations and Returns,January 2017
Registrations and Returns,December 2016
Registrations and Returns,November 2016
Registrations and Returns,October 2016
Registrations and Returns,August 2016
Registrations and Returns,July 2016
Registrations and Returns,June 2016
Registrations and Returns,May 2016
Registrations and Returns,April 2016
Registrations and Returns,March 2016
Registrations and Returns,February 2016
Registrations and Returns,January 2016
Registrations and Returns,December 2015
Registrations and Returns,November 2015
Registrations and Returns,October 2015
Registrations and Returns,September 2015
Registrations and Returns,August 2015
Registrations and Returns,July 2015
Registrations and Returns,June 2015
Registrations and Returns,May 2015
Registrations and Returns,April 2015
Registrations and Returns,March 2015
Registrations and Returns,February 2015
Registrations and Returns,December 2014
Registrations and Returns,Novembery 2014
Registrations and Returns,October 2014
Registrations and Returns,September 2014
Registrations and Returns,August 2014
Registrations and Returns,July 2014
Registrations and Returns,June 2014
Registrations and Returns,May 2014
Registrations and No Returns,April 2014
Registrations and Returns,March 2014
Registrations and Returns,February 2014
Registrations and Returns,January 2014
Registrations and No Returns,December 2013
Registrations and Returns,November 2013
Registrations and Returns,October 2013
Registrations and No Returns,September 2013
Registrations and Returns,August 2013
Registrations and Returns,July 2013
Registrations and Returns,June 2013
Registrations and No Returns,May 2013
Registrations and Returns,April 2013
Registrations and Returns,March 2013
Registrations and No Returns,February 2013
Registrations and Returns,January 2013
Registrations and Returns,December 2012
Registrations and Returns,November 2012
Registrations and No Returns,October 2012
Registrations and Returns,September 2012
Registrations and Returns,August 2012
Registrations and Returns,July 2012
Registrations and Returns,June 2012
Registrations and Returns,May 2012
Registrations and Returns,April 2012
Registrations and Returns,March 2012
Registrations and Returns,February 2012
Registrations and Returns,January 2012
Registrations and Returns,December 2011
Registrations and Returns,November 2011
Registrations and No Returns,October 2011
Registrations and Returns,September 2011
Registrations and Returns,August 2011
Registrations and Returns,July 2011
Registrations and Returns,June 2011
Registrations and No Returns,May 2011
Registrations and No Returns,April 2011
Registrations and Returns,March 2011
Registrations and Returns,February 2011
Registrations and Returns,January 2011
Registrations and Returns,December 2010
Registrations and No Returns,November 2010
Registrations and No Returns,October 2010
Registrations and Returns, September 2010
Registrations and Returns, August 2010
Registrations and Returns, July 2010
Registrations and Returns, June 2010
Registrations and Returns, May 2010
Registrations and Returns, April 2010
Registrations and Returns, March 2010
Registrations and Returns, February 2010
Registrations and Returns, January 2010
Registrations and Returns, December 2009
Registrations and No Returns, November 2009
Registrations and Returns, October 2009
Registrations and Returns, September 2009
Registrations and Returns, August 2009
Registrations and Returns, July 2009
Registrations and Returns, June 2009
Registrations and Returns, May 2009
Registrations and Returns, April 2009
Registrations and Returns, March 2009
Registrations and Returns, February 2009
Registrations and Returns, January 2009
Registrations and Returns, December 2008
Registrations and Returns, November 2008
Registrations and Returns, October 2008
Registrations and Returns, September 2008
Registrations and Returns, August 2008
Registrations and Returns, July 2008
Registrations and Returns, June 2008
Registrations and Returns, May 2008
Registrations and Returns, April 2008
Registrations and No Returns, March 2008
Registrations and No Returns, February 2008
Registrations and Returns, January 2008
Registrations and Returns, November 2007
Registrations and Returns, October 2007
Registrations and Returns, September 2007
Registrations and Returns, August 2007
Registrations and Returns, July 2007
Registrations and Returns, June 2007
Registrations and Returns, May 2007
Registrations and NO Returns, April 2007
Registrations and Returns, March 2007
Registrations and Returns, February 2007
Registrations and Returns, January 2007
Registrations and Returns, December 2006
Registrations and NO Returns, November 2006
Registrations and Returns, October 2006
Registrations and Returns, September 2006
Registrations and Returns, August 2006
Registrations and Returns, July 2006
Registrations and Returns, June 2006
Registrations and Returns, May 2006
Registrations and Returns, March 2006
Registrations and Returns, February 2006
Registrations and Returns, January 2006
Registrations and Returns, November 2005
Registrations and Returns, October 2005
Registrations and Returns, September 2005
Registrations and Returns, August 2005
Registrations and Returns, July 2005
Registrations and NO Returns, June 2005
Registrations and Returns, May 2005
Registrations and Returns, April 2005
Registrations and Returns, March 2005
Registrations and Returns, February 2005
Registrations and Returns, January 2005
Registrations and Returns, December 2004
Registrations and Returns, November 2004
NO Registrations and NO Returns, October 2004
Registrations and Returns, September 2004
Registrations and Returns, August 2004
Registrations and Returns, July 2004
Registrations and Returns, June 2004
Registrations and Returns, May 2004
Registrations and Returns, April 2004
NO Registrations and NO Returns, March 2004
Registrations and Returns, February 2004
Registrations and Returns, January 2004
Registrations and Returns, December 2003
Registrations and Returns, November 2003
Registrations and Returns, October 2003
NO Registrations and NO Returns, September 2003
Registrations and Returns, August 2003
Registrations and Returns, July 2003
Registrations and Returns, June 2003
Registrations and Returns, May 2003
Registrations and Returns, April 2003
NO Registrations and NO Returns, March 2003
Registrations and Returns, February 2003
Registrations and Returns, January 2003
Registrations and Returns, December 2002
Registrations and Returns, November 2002
Registrations and Returns, October 2002
Registrations and Returns, September 2002
Registrations and Returns, August 2002
Registrations and Returns, July 2002
Registrations and Returns, June 2002
NO Registrations and NO Returns, May 2002
Registrations and Returns, April 2002
Registrations and Returns, March 2002
Registrations and Returns, February 2002
Registrations and Returns, January 2002
Registrations and Returns, December 2001
Registrations and NO Returns!, November 2001
Registrations and NO Returns!, October 2001
Registrations and Returns, September 2001
Registrations and Returns, August 2001
Registrations and Returns, July 2001
Registrations and Returns, June 2001
Registrations and NO Returns!, May 2001
Registrations and Returns, April 2001
Registrations and Returns, March 2001
Registrations and Returns, February 2001
Registrations and Returns, December 2000
Registrations and Returns, November 2000
Registrations and Returns, October 2000
Registrations and Returns, August 2000
Registrations and Returns, July 2000
Registrations and Returns, June 2000
The following submission was registered by the SCA College of Arms, January 2019:
The following submissions were returned for further work, January 2019:
Marceau de Valcourt. Household name Rhythmic Mercenaries.
This name must be returned because it does not follow any attested pattern for naming groups of people. The Letter of Intent argued that this name follows the pattern for English gang names. However, this name does not fit that pattern. First, we have no evidence of such groups being described with the collective noun mercenaries. Our current research shows that period English gangs were described with terms like Crew, Boys or Regiment. Any of these terms would be an acceptable household designator for an English gang name. The term mercenaries is not. While it was certainly a word in period, it was not a word used in the particular way intended by the submitter.
Second, the adjective rhythmic is not the kind of word used to describe English gangs. Gangs were generally described with negative adjectives, such as terrible, damned or cursed. Less commonly, positive adjectives such as gallant were used ironically, as in the gallant crew (1598) and the Gallant Roars (1603). No adjectives as abstract as rhythmic or rhythmical are found in period lists of English gangs. Moreover, there is no evidence that the terms rhythmic or rhythmical were used to describe any groups of people in English. Accordingly, as this name does not follow an attested naming pattern for groups of people, it cannot be registered.

Orabilis Douw. Badge.
This badge is returned for violation of SENA A5E3, which generally limits complexity of armory to eight tinctures and charge types. The submitted badge features four tinctures (argent, sable, gules, ermine) and five charges (dragon, sword, griffin, arrow, and bordure), for a total complexity count of nine.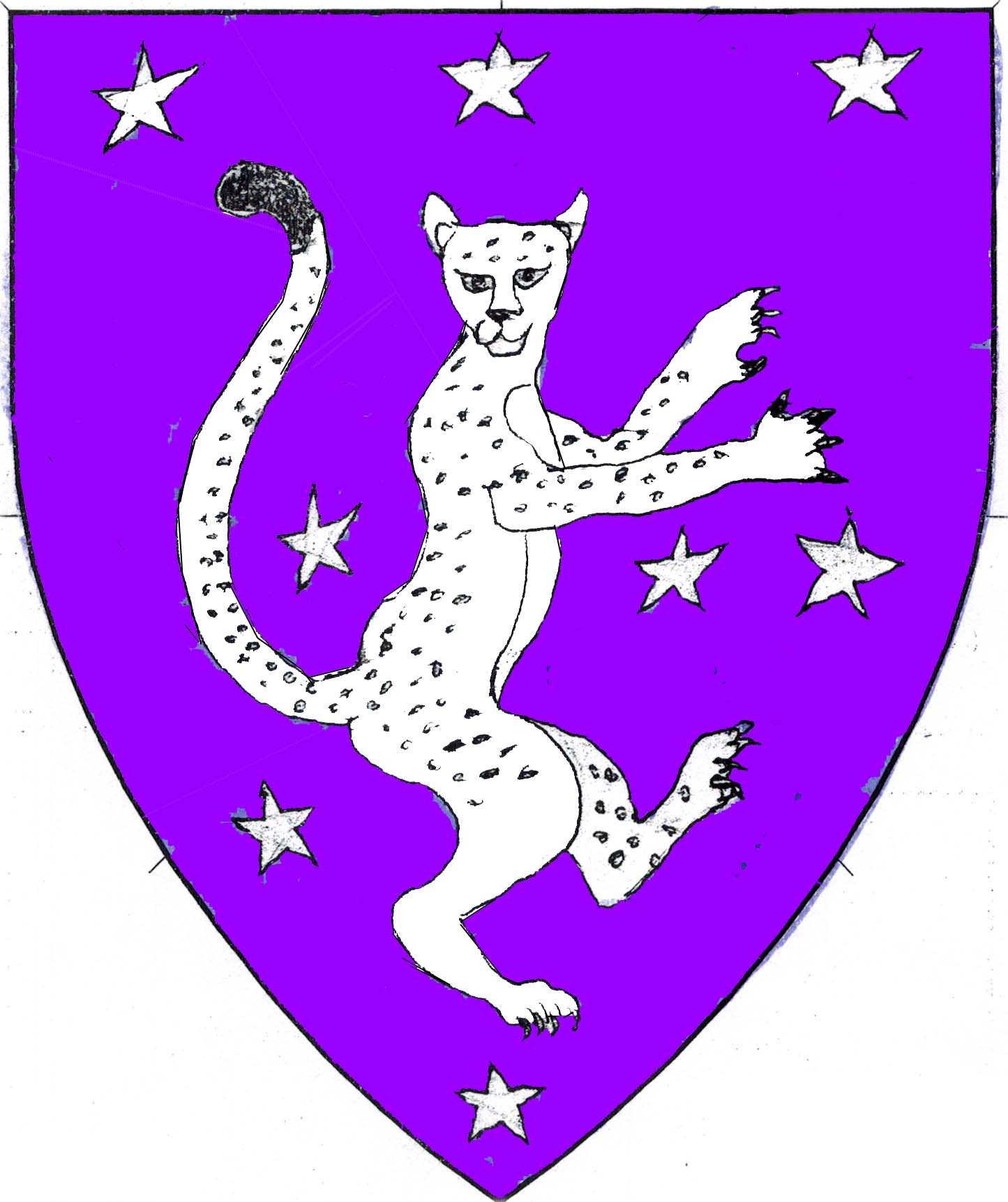 Celeste Vallentine