ATENVELDT COLLEGE OF HERALDS
Letter of Intent
30 August 2017, A.S. LII
Unto Emma Laurel; Juliana Laurel any minute now; Alys Pelican; Cormac Wreath; and the commenting Members of the College of Arms,
Greetings from Marta as tu Mika-Mysliwy, Brickbat Herald and Parhelium Herald for the Kingdom of Atenveldt!
The Atenveldt College of Heralds requests the consideration and registration of the following names and armory with the College of Arms.
Unless specifically stated, the client will accept any spelling and grammar corrections; all assistance is appreciated.
1. Donndubán mac Eógain: DEVICE RESUBMISSION from Laurel, June 2013
Argent, a wolf rampant gules ermined Or, a bordure pean.

The name was registered June 2013.
The original submission, Per chevron sable and vert, a chevron between two compass starts and a sword inverted argent., was returned for conflict. This is a complete redesign.
2. Eugene Haraldsson: NEW NAME and DEVICE
Per pale sable and argent, a sun eclipsed between in bend an arrowhead and anther inverted, all counterchanged.
Eugene II (d. 827 AD) ascended to the papacy in 824 (Horace Mann, The Catholic Encyclopedia, Vol. 5 (http://www.newadvent.com/cathen/05598b.htm).
Haraldr is an Old Norse masculine name, Geirr Bassi Haraldsson, The Old Norse Name, p. 10.
However, Adelaide de Beaumont commented that Eugene is anglicized, and the pope was born Eugenio Savelli (in 780), becoming Pope Eugenius in 824. SENA allows English with Norse only before 1100, and neither Latin nor Italian combine at all.
On the other hand, Maridonna Benvenuti suggested that Eugene is found in Ireland as Early Modern English in 1539-1540 (source Fiants-1 99), in DMNES, http://dmnes.org/name/Eugene.
In Reaney and Wilson, one finds Philip Harald 1327 s.n. Herald et al. pp. 217-218. Henryson shows Richard Henrison 1343, Nicholas Henryson 1381, 'Son of Henry,' p. 217; and in Bardsley, Higg, Higgs, Higson show Elizabeth Higson of Brereton Will' at Chester. There are all within 300 years of each other, if Eugene Haraldson is considered a plausible spelling. It seems that the simple addition of -son for an English byname would only use a single -s-.
The client desires a male name.


3. Geraint de Grey: DEVICE RESUBMISSION from Laurel, June 2017
Azure, a chevron cotised Or between two mullets of five points argent and a demi-sun issuant from base Or.
The name was registered October 2000.



The previous submission, Azure, a chevron Or between two mullets of eight points argent and a demi-sun issuant from base Or., was returned for conflict with Godric Linch, Azure, a chevron Or between two quatrefoils argent and a lion dormant Or. There is one DC for changing the type of all of the secondary charges. Additionally, this device is returned for violation of SENA A3D1, the "sword and dagger" rule, which disallows the use of visually similar but blazonably different charges. Mullets of eight points and suns do not have a DC between them, and cannot be used on the same device; the use of demi-suns and mullets of eight points is just as visually confusing. Changing the eight-pointed mullets to mullets of five points eliminates the "sword and dagger" violation, and adding the cotises clears the conflict with Godric (hopefully without encountering new conflicts).



4. Marcus Octavius Valerius: NEW NAME and DEVICE
Per pale gules and sable, an eagle Or and in chief three billets argent.
The name is Latin.
Marcus and Octavius are listed as praenomen and nomen, respectively, in Ursula George's naming guide, http://yarntheory.net/ursulageorges/names/roman.html.
In "A Study of the Cognomina of Soldiers in the Roman Legions," Lindley Richard Dean, under the heading for Valerianus (p. 56), it says, "Before speaking of Valerianus there are several examples of Valerius as a cognomen which must be noticed." Marcus Octavius Valerius is therefore fine, https://books.google.com/books?id=MF0KAAAAIAAJ&q=valerius#v=onepage&q=valerius&f=false.
He desires a male name and is most interested in the language/culture of the name (Roman 1-2nd C.); he would like it made authentic for a 1st-2nd C. Roman. The client will not allow the creation of a holding name.
The three billets in chief are an allusion to the client's knight, Sir Oslaf of Northumbria. (A rendition of Oslaf's arms is at http://www.atenveldt.org/Heraldry/OrderofPrecedence/memid/2645.)
5. Nikolaus Gerhart: NEW BADGE
(Fieldless) An armored arm embowed argent sustaining a broken lance bendwise sinister Or.
The name was registered November 2014.
6. Viktoria of York: DEVICE RESUBMISSION from Laurel, April 2017
Argent, on a Latin cross throughout purpure a dragonfly argent.
The name was registered July 2012.
The previous submission, Per saltire argent and purpure, in pale two crosses and in fess two dragonflies counterchanged., was returned for running afoul of SENA A3D2b. which states "Mixing Ordinaries and Other Charges: While charge groups may have different types of charges, charge groups consist of either identical ordinaries or complex charges. Thus, a single charge group may not mix ordinaries with non-ordinaries or mix two types of ordinaries." Here we have a primary charge group with the crosses throughout (which are considered ordinaries) and the dragonflies. This is a redesign.
I was assisted in the preparation of this Letter of Intent by Adelaide de Beaumont, Maridonna Benvenuti and Michael Gerard Curtememoire.
There is 2 New Names, 2 New Devices and 1 New Badge. These 5 items are chargeable and Laurel should receive $20 for them. There is 3 Device Resubmissions. There are a total of 8 items on this letter.
Thank you to those who have provided your wisdom and patience, your expertise and your willingness to share it.
Marta as tu Mika-Mysliwy
c/o Linda Miku
2527 East 3rd Street; Tucson AZ 85716
atensubmissions.nexiliscom.com
brickbat@nexiliscom.com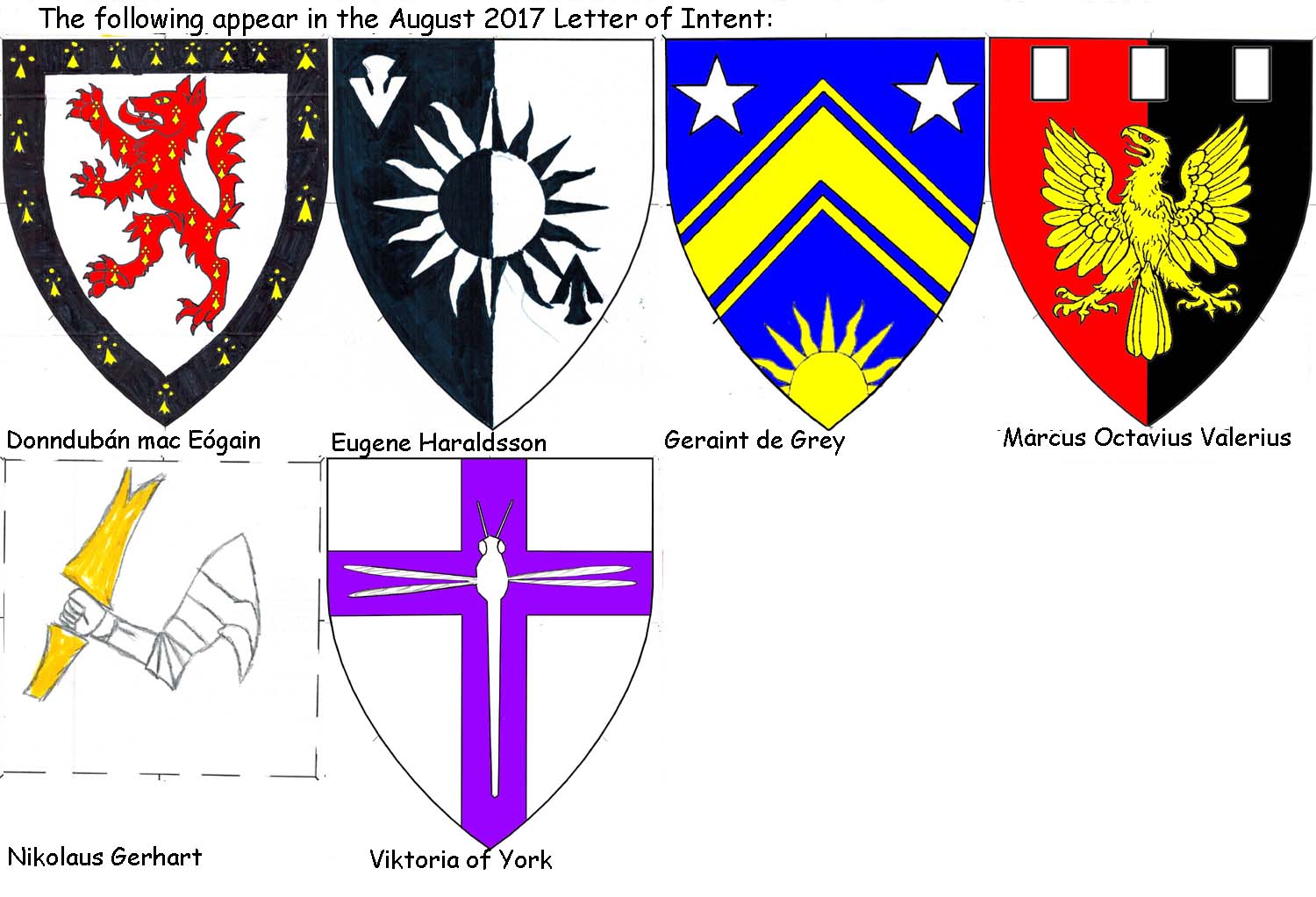 30 August 2017 Atenveldt Letter of Intent (A.S. LII)