ATENVELDT COLLEGE OF HERALDS

td>

30 July 2015, A.S. L

Letter of Intent

Kingdom of Atenveldt
Unto Andrewe Laurel; Lillia Pelican; Brunissende Wreath; and the commenting Members of the College of Arms,
Greetings from Marta as tu Mika-Mysliwy, Brickbat Herald and Parhelium Herald for the Kingdom of Atenveldt!
The Atenveldt College of Heralds requests the consideration and registration of the following names and armory with the College of Arms.
Unless specifically stated, the client will accept any spelling and grammar corrections; all assistance is appreciated.
1. Dalbach mac Olcán: NEW NAME
Originally submitted as Dalbabhach Olcán, no documentation was found for the given name, and the patronymic particle was missing. Upon further consultation with the client, he is happy to accept the documented Old Irish Gaelic name Dalbach and adding the particle.
Dalbach is an Old Irish Gaelic male given name dated to 800, in "Index of Names in Irish Annals: Dalbach, Dalbhach,"Mari Elspeth nic Bryan
(http://medievalscotland.org/kmo/AnnalsIndex/Masculine/Dalbach.shtml)
Olcán is the name of an early Irish saint whose feast day is February 20 (http://omniumsanctorumhiberniae.blogspot.com/2013/02/olcan-of-armoy-february-20.html)
The particle mac denotes the patronymic relationship between Dalbach and his father Olcán.
The client desires a male name and is most interested in the meaning and sound of the name. He will not accept Major Changes to the name.
2. Gráinne an Einigh inghean Uí Mháille: DEVICE RESUBMISSION from Laurel, April 2015
Per pale argent and vert, an olive tree counterchanged fructed sable and a base rayonny Or.
The name is pended at Laurel for further commentary, until September 2015.
The original device, Per pale vert and argent, an olive tree counterchanged fructed sable and a base rayonny Or., was returned for conflict with the device of Aleyn More: Per pale vert and argent, a weeping willow counterchanged. "Both olive trees and weeping willow trees are round-shaped trees so there is no DC for type of charge. Thus, there is only one DC for adding the base." The field tinctures and that of the tree were "flipped," thus clearing the conflict (and hopefully avoiding the introduction of any new conflict).
3. Gwyneth O Callaghan: DEVICE RESUBMISSON from Laurel, May 2015
Argent, an ash tree eradicated proper and on a chief azure a sun Or between an increscent and a decrescent argent.
The name was registered May 2014.
The previous submission, as listed above, was returned "administratively. The form uploaded was hand-colored while the emblazon in OSCAR was computer-colorized, which has long been a cause for return." The problem has been corrected.
4. Johnathan Crusadene Whitewolf: TRANSFER OF HOUSEHOLD NAME and ARMORIES
Count Johnathan Crusadene Whitewolf (Johnathan F. Scott) passed away in September 2011. The executor of his estate/claiming successor to the personal property is Count Johnathan Crusadene Whitewolf the Younger (Johnathan M. Scott), his son. The following transfers are requested by his son.
To Johnathan Crusadene Whitewolf the Younger (son):
Arms: Gules, ermined argent, a wolf rampant argent., registered June 1972. His son's registered arms, Per pale gules and azure, a cross argent griffee-de-loup, pierced, therein an acorn Or, capped vert., registered June 1976, is to be retained as a badge.
Household Name and Badge: Brothers Crusadene, with Argent, a long Maltese cross nowy pierced gules and therein a rose azure., both registered August 1986.
To Nichelle of Whitewolfe (Nichelle Lee Vargo, daughter):
Household Name and Badge: Brotherhood of the Blue Rose, with Sable, a rose azure imbrued gules., both registered March 1985.
The clients have supplied letters of acceptance of transferred items, along with the certified Certificate of Death and the Affadavit for Collection for All Personal Property.
5. Sayyid ibn Tariq al-Muhibb: NEW DEVICE
Vert, a pile bendwise issuant from sinister base, in sinister chief the miniscule Greek letter pi argent.
The name was registered June 2014.
Various forms of Greek letters appear in https://en.wikipedia.org/wiki/Greek_alphabet under the section "Letter Shapes". The accompanying text says "in the 9th and 10th century, uncial book hands were replaced with a new, more compact writing style, with letter forms partly adapted from the earlier cursive. This minuscule style remained the dominant form of handwritten Greek into the modern era."
6. Yehoshua ben Abraam: DEVICE RESUBMISSION from Laurel, February 2015
Or, two pea-vines fructed and entwined, on a chief vert three stars of David Or.
The name was registered July 2009.
The previous submission, Or, two pea-vines fructed and entwined about a stake, on a chief vert three stars of David Or.," was returned for redraw, for violating SENA A2C2: "Elements must be drawn to be identifiable. Many commenters were unable to identify the stake as an element independent from the plant." The stake has been removed.
Pea-plants/ pea-vines figure prominently into the civic arms of Gorokhovets (Vladimir oblast), http://www.civicheraldry.com/page/2964, a river port first mentioned in 1239, when it was sacked by the Mongols, and in 1539, when it a avoided destruction by the Tatars. The name of the city comes from the Russian, gorokh, "peas" (https://en.wikipedia.org/wiki/Gorokhovets,_Vladimir_Oblast).
There are 1 New Name, 1 New Device, 3 Device Resubmissions, 5 transfers and 5 transfer acceptances. This is a total of 16 items, 2 of them new, 3 resubmissions, and 10 administrative actions (no payment required).
Thank you to those who have provided your wisdom and patience, your expertise and your willingness to share it.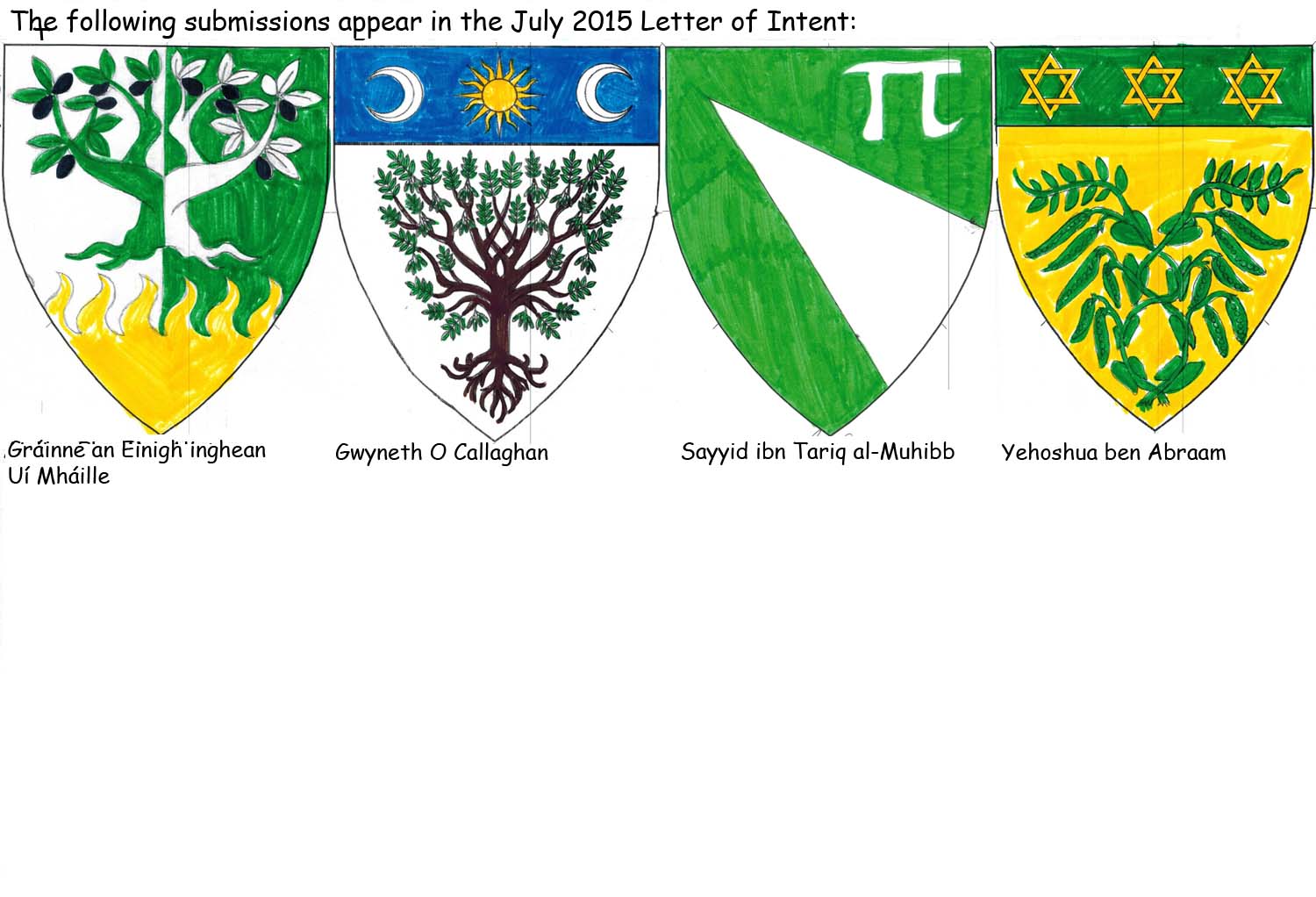 Marta as tu Mika-Mysliwy
c/o Linda Miku
2527 East 3rd Street; Tucson AZ 85716
atensubmissions.nexiliscom.com
brickbat@nexiliscom.com