HATENVELDT COLLEGE OF HERALDS
Letter of Intent
20 April 2016, A.S. L
Unto Andrewe Laurel; Lillia Pelican; Brunissende Wreath; and the commenting Members of the College of Arms,
Greetings from Marta as tu Mika-Mysliwy, Brickbat Herald and Parhelium Herald for the Kingdom of Atenveldt!
The Atenveldt College of Heralds requests the consideration and registration of the following names and armory with the College of Arms.
Unless specifically stated, the client will accept any spelling and grammar corrections; all assistance is appreciated.
1. Alexandra Starling of Ravenspurn: NEW NAME and DEVICE
Purpure, pendant from a chain set in chevron inverted a lighthouse Or, enflamed gules.
Alexandra is a female given name dated to 1205 in England (Withycombe, 3rd edition, p. 14 s.n. Alexandra).
Starling is dated to 1166 and 1203 for Wimund Starling (Reaney and Wilson 3rd edition, p. 425).
Ravenspurn was a town in the East Riding of Yorkshire, England, which was lost due to coastal erosion, one of more than 30 along the Holderness Coast which have been lost to the North Sea since the 19th century. The town was located close to the end of a peninsula near Ravenser Odd, which has also been flooded. Two medieval English kings landed at Ravenspurn: Henry IV in 1399, on his way to dethrone Richard II, and Edward IV in 1471, on his way back from exile in the Netherlands, where he was resisted by the local lord, Sir Martin de la See. (https://en.wikipedia.org/wiki/Ravenspurn). Ravenspurn is also mentioned in Ekwall under the heading Spurn Head as one of the variations of the name for the place (Ekwall references Shakespeare's Richard II).
2. Callum of Skye: NEW NAME and DEVICE
Azure, on a bend between a sheaf of arrows inverted and a thistle Or, three fleurs-de-lys azure.
Callum is documented as a male given name, a form of Columb in Ó Corráin and Macguire's Irish Names, p. 55 (as Calum). There are several instances of this name in the familysearch.org site, notably with the marriage of Callum Kynach in 1643 in Kenmore, Perth, Scotland (https://familysearch.org/ark:/61903/1:1:XY3H-252, Batch M11360-2).
Skye is the location of Dunvegan Castle, the oldest inhabited castle in Scotland and always by the same family, the chiefs of the Clan MacLeod. The MacLeods are one of the principal clans on Skye. The castle began in the 12th C. The MacDonalds, the other main clan on Skye, were not so settled. Around the 16th or 17th C., they moved their clan seat from Dunsgaith, near Tokavaig on Sleat, to Duntulm at the north of the Trotternish peninsula. (http://www.isleofskye.com/skye-guide/history).
The client desires a male name and it most interested in the language/culture of the name. He would like it authentic for 12-16th C. Scottish (either language/culture or time period it acceptable).
3. Hunter du Grae: NEW NAME
Hunter is the client's legal middle name (DMV license copy to Laurel) via SENA PN.1.B.2: Modern "middle names" are a special case. Some people in the modern world have middle names derived from given names. Others have middle names derived from surnames, through shifts in naming practice, through marriage, or for other reasons. Therefore, middle names are registerable based on the type of name they are: given names or surnames. Middle names which originated as surnames but are modernly used as given names may be used as given names.
The byname is grandfathered to his legal father, Ivan du Grae, but Ivan never registered this name (rather, Ivan of Navarette in July 1971). That being said, a member of his father household, Sutton du Grae, submitted his name and device in May 2015 with: "du Grae is a mystery (it's been used in this kingdom for decades but never registered). We find Gray, France, built on the banks of the Saone river. It is the last major city in Franche-Comte before the Saone flows into Burgundy, and it was an important trade locale since the Middle Ages, its port having been the main trading center in Franche-Comte (http://www.interfrance.com/en/fc/hs_gray.html); it isn't likely that du would've been the correct construction (but I'd be happy to be wrong). Grae can be dated to 1572 in an English marriage record for Harrie Grae (Batch M05840-2, https://familysearch.org/ark:/61903/1:1:NKG5-MQ1), and de Gray is found in Scotland in 1248, according to Black, s.n. Gray." Then Blue Tyger commented " Probably the closest I can get is <de Grae> as a Gaelic header form in Woulfe at p. 259, with the italicized Anglicized Irish forms <de Grey> and <de Graye>. The presence of Anglicized Irishf forms under a header is generally sufficient to give the submitter the benefit of the doubt that the Gaelic header was in use in the 16th/early 17th cen.
<Sutton de Grae> would therefore be registerable as an English-Gaelic combo under Appendix C." That client's name was registered in August 2015 at Sutton de Grae, and if no new evidence is presented, that might be the case here.
The client desires a male name.
4. Jacket Tyllyng: DEVICE RESUBMISSION from Laurel, July 2014
Per fess azure and vert, on a fess between three lions argent a sinister gauntleted fist azure.
The name was registered July 2014.
The client's previous submission, Gules, on a mountain vert snow-capped a sinister gauntleted fist argent., was returned by Laurel "No documentation was provided, by the submitter or in commentary, that a snow-capped mountain is a period motif. Barring such documentation it is not registerable to the submitter as the grandfather clause applies to the Barony of Ered Sûl, but does not extend to the residents of the Barony." This is a redesign using elements of the previous submission.
5. William MacIver: NEW NAME and NEW DEVICE
Per saltire gules and argent, in fess two wyverns combattant sable.
Ogress Herald comments: "All the forms in Black are Scots. William is a perfectly good Scots given name, being found, among other places, in Aryanhwy merch Catmael's "Index of Scots names found in Dictionary of the Older Scottish Tongue," (http://www.ellipsis.cx/~liana/names/scots/dost/william.html), with 208 instances of this spelling between 1392 and 1650."
MacIver is a header found in Black, p. 520. Period forms include M'Ewyre 1548, M'Ewir 1533, Makewer 1572, M'Euir 1533. A few that are somewhat closer (with the -v- included, a definite aid to pronunciation) are Makevire 1479, McEvir 1541, and McUvyr 1499. Although MacIver is a 18th C. spelling according to entries in familysearch.org, MacIver has been registered by the CoA several times, most recently as April 2006.
The client want a male name and is most interested in the language/culture (Scottish).
6. `Izza al-Zarqa': NEW DEVICE CHANGE
Purpure, two horses combatant and on a chief argent three lotus blossoms in profiles purpure.
The name was registered July 2012.
If this submission is registered, please release the currently-registered device, Purpure, two horses combattant and a chief Or.
Aria Gemina Mala comments that an artist's note would be appropriate (and I agree), that the lotus should float mid-chief as is usual to better identify the charges.


There are 4 New Names, 3 New Devices and 1 New Device Change; there is 1 Device Resubmission. There are 8 items chargeable and a total of 9 items. Laurel should receive $12 for new submissions.
I was assisted in the preparation of this Letter of Intent by Alys Mackyntoich, Andreas Lucernensis, Aria Gemina Mala, Arwyn of Leicester, Hubert de Stockleye, Song Zidie and Sorcha inghen Chon Mhara.
Thank you to those who have provided your wisdom and patience, your expertise and your willingness to share it.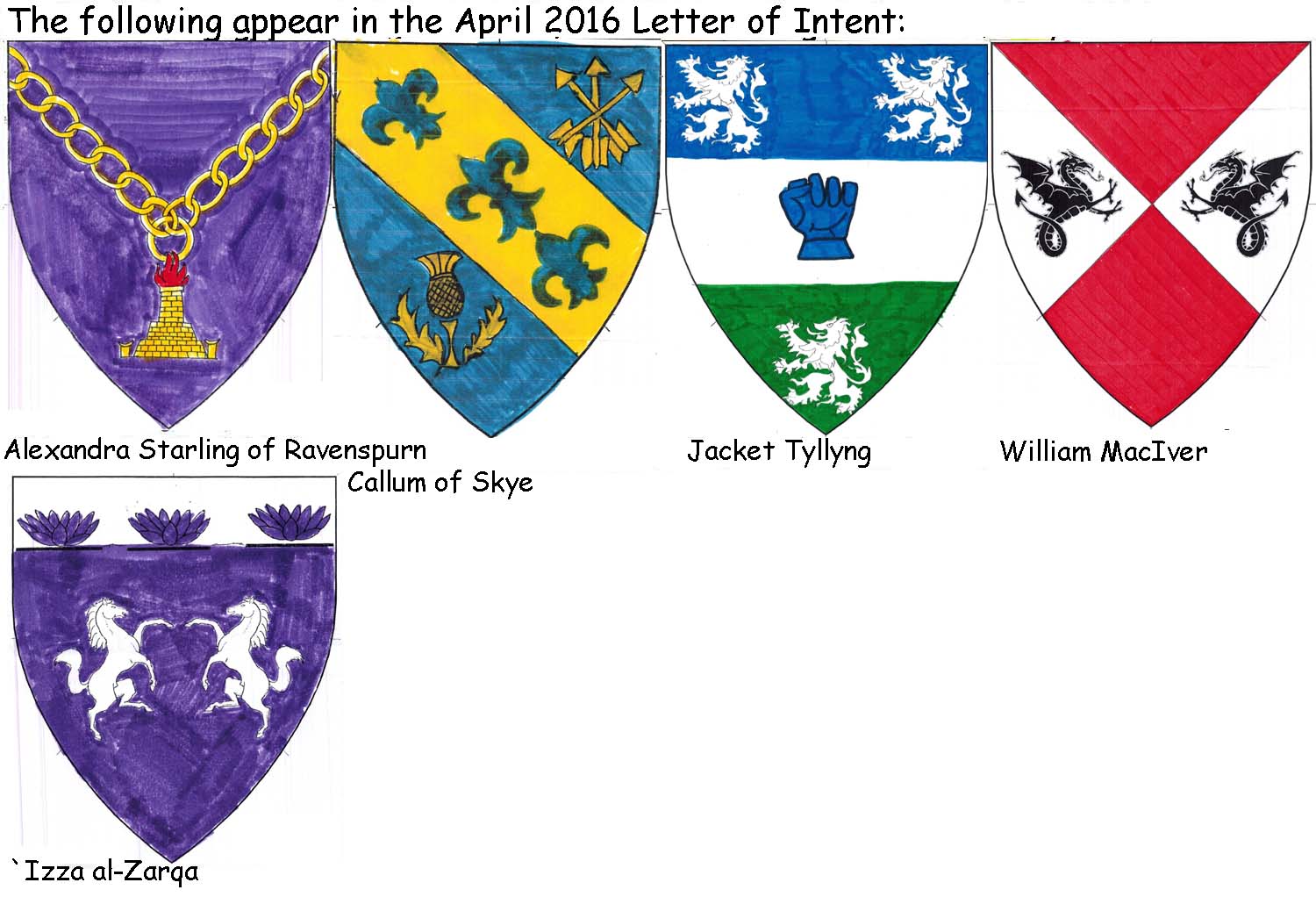 Marta as tu Mika-Mysliwy
c/o Linda Miku
2527 East 3rd Street; Tucson AZ 85716
atensubmissions.nexiliscom.com
brickbat@nexiliscom.com