ATENVELDT COLLEGE OF HERALDS
Letter of Intent
30 October 2017, A.S. LII
Unto Juliana Laurel; Alys Pelican; Cormac Wreath; and the commenting Members of the College of Arms,
Greetings from Marta as tu Mika-Mysliwy, Brickbat Herald and Parhelium Herald for the Kingdom of Atenveldt!
The Atenveldt College of Heralds requests the consideration and registration of the following names and armory with the College of Arms.
Unless specifically stated, the client will accept any spelling and grammar corrections; all assistance is appreciated.
1. Marcus de Shirewude: NEW DEVICE CHANGE
Argent, an Oriental dragon in annulo purpure maintaining a roundel sable, a base nebuly purpure.


The name was registered July 2012.
If registered, the client will maintain her currently-registered device, Per fess vert and argent, three demi-swords inverted issuant from the line of division and a dragon dormant wings elevated and addorsed counterchanged., as a badge.
This is clear of the armory for Ailis de la Marche: Argent, a dragon in annulo vorant of its tail purpure maintaining in its feet a cauldron, an orle sable., with 1 DC for the orle vs. base, and 1 DC for the tincture change of those secondary charges.
2. Riane Goch: DEVICE RESUBMISSION from Laurel, January 2017
Argent, in cross four hearts points to center sable and in saltire four daggers points to center gules.
The name was registered December 2014.
The previous device change submission, Gules, on a plate a sword gules surmounted by a dragon's head erased sable., was returned January 2017 for multiple reasons; this is a complete redesign. There is a step from period practice for the use of charges in annulo not in their default palewise orientation. I am unsure whether this would apply to all the charges in this submission, as they are co-primaries (I have a bad feeling that there may be two SFPPs). Nonetheless, thank you! to the Heraldic Consultation table at Great Western War for assisting an Atenveldt client.
If registered, the client will maintain her currently-registered device, Per saltire argent and gules, in chief two chevronels couped and in base a pair of scissors sable., as a badge.
3. Theodora Akropolitissa: NEW DEVICE
Argent, a bull's head cabossed and in chief a double-bitted axe, a bordure embattled azure.
The name was registered June 2015.

This submission seem to have slipped between the floorboards, having been taken at the Estella War; very sorry for the delay!
4. Varinn inn Spaki: EXCHANGE OF DEVICE WITH BADGE
Per pale sable and gules, a sword between two wolf's heads erased respectant Or.

The name was registered January 2013. This badge was registered January 2014. When exchanged, the client's currently-held device, Per pale sable and gules, a dragon's head cabossed and in base a Thor's hammer Or., is to be released.
5. Varinn inn Spaki: NEW BADGE
Argent, within the horns of a decrescent gules in pale a wolf's head cabossed and two roses sable, slipped and leaved vert, stems crossed in saltire.
The name was registered January 2013.
I was assisted in the preparation of this Letter of Intent by Seamus mac Riain.
There is 1 New Device, 1 New Device Change, and 1 New Badge. These 3 items are chargeable and Laurel should receive $12 for them. There was 1 Device Resubmission and 1 Exchange of Device with a Badge; these not a chargeable submissions.
Thank you to those who have provided your wisdom and patience, your expertise and your willingness to share it.
Marta as tu Mika-Mysliwy
c/o Linda Miku
2527 East 3rd Street; Tucson AZ 85716
atensubmissions.nexiliscom.com
brickbat@nexiliscom.com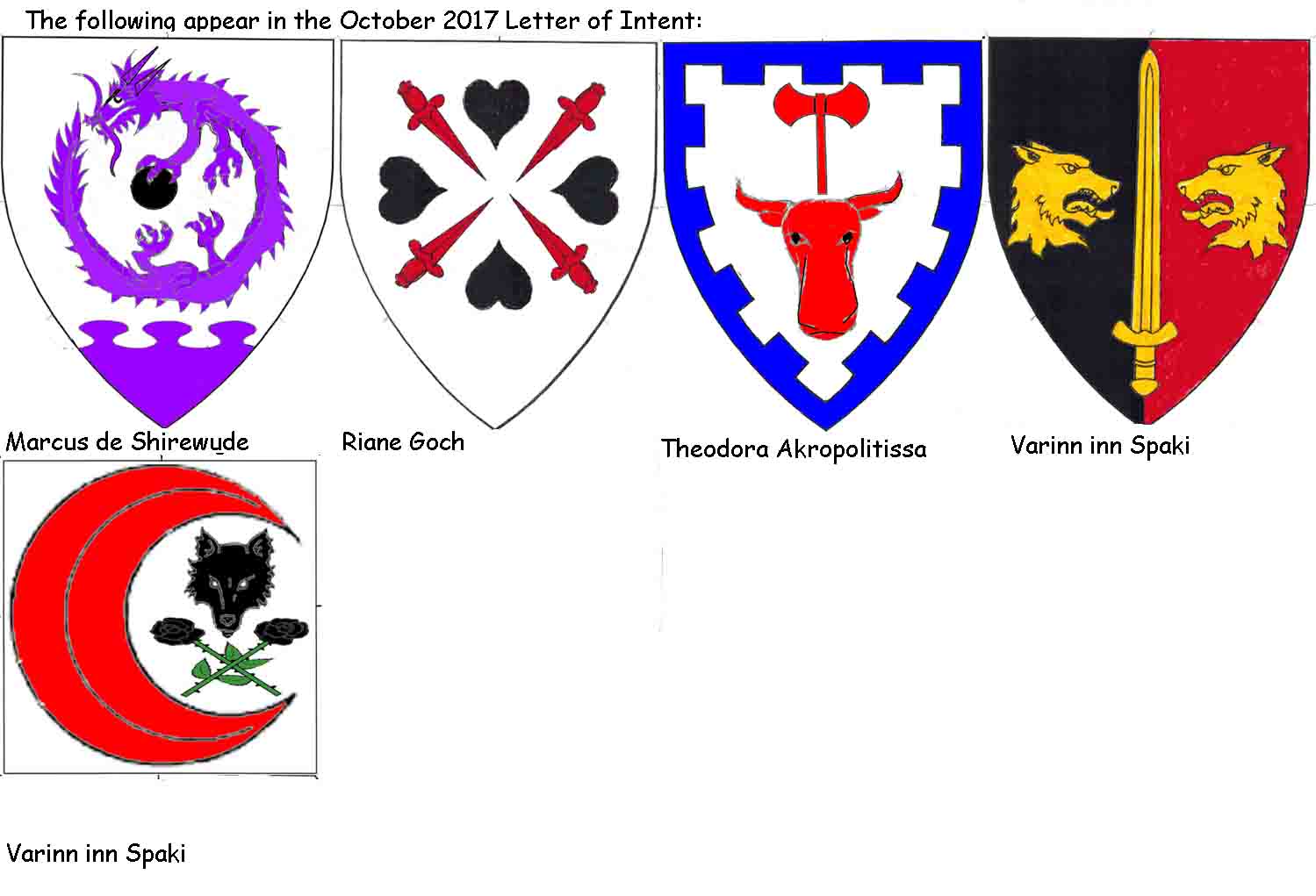 30 September 2017 Atenveldt Letter of Intent (A.S. LII)