27 January 2004, A.S. XXXVIII
Kingdom of Atenveldt
Unto Francois la Flamme, Laurel King of Arms; Mari Elspeth nic Bryan, Pelican Queen of Arms; Zenobia Naphtali, Wreath Queen of Arms; Laurel Designate and Her Heraldic Staff; and the commenting Members of the College of Arms,
Greetings from Marta as tu Mika-Mysliwy, Brickbat Herald!
There is a new Aten Principal Herald: he is Lord Seamus McDaid (Mike McDade, 910 W. Cheyenne Drive, Chandler AZ 85225, 480-600-3776). Please update your mailing rosters.
Estrella War XX is being held 11-16 February 2004 in the Barony of Sundragon, Kingdom of Atenveldt. There will be an Heraldic Consultation Table at the War (Thursday-Sunday). If you'd like to lend a hand, or meet Mistress Shauna of Carrick Point, Laurel Designate, or just schmooze armorially and/or onomastically, please stop by! Atenveldt is currently experiencing a good amount of rain and snow (in the higher reaches), so I hope that It Gets It All Out of Its System by wartime!
The Atenveldt College of Heralds requests the consideration and registration of the following names and armory with the College of Arms. Unless specifically stated, the submitter will accept spelling and grammar corrections; assistance in these areas is appreciated.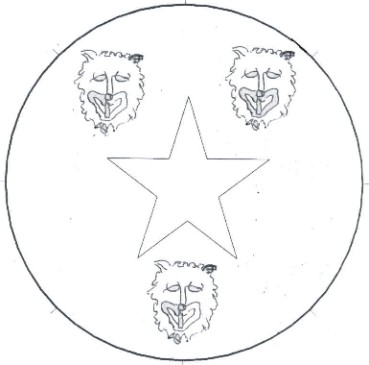 1. Ælfred Lionstar of Ravenspur: NEW HOUSEHOLD NAME "House Lionstar"
The primary persona name was registered June 1987.
The household name is taken directly from an element of the submitter's registered name and is grandfathered to him.
2. Ælfred Lionstar of Ravenspur: NEW HOUSEHOLD BADGE
Sable, a mullet between three lions' heads cabossed Or.
The badge is derived from elements of his registered device, Pean, a mullet inverted gules, surmounted by a mullet between three lion's heads Or.
3. Amalric d'Acre: NEW BADGE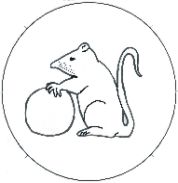 (fieldless) A rat sejant erect sustaining a gunstone sable.
The name appears in the December 2003 Atenveldt Lettter of Intent.
While this could be blazoned as A rat sejant erect sustaining a roundel sable., a gunstone is specifically mentioned in his original blazon.
4. Asha Batu: NEW NAME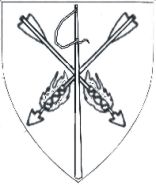 The name is Mongolian. Both elements are found in "Mongolian Naming Practices," Marta as tu Mika- Mysliwy. I haven't found a meaning for Asha, aside from its use as a name element (as in Asha Gambu – there are some name elements in Mongolian that don't translate (at least not easily), but are "just" name elements), but Batu means "loyal, confident"; the name following period two-element construction with a good epithet, "Asha the Loyal".
5. Asha Batu: NEW DEVICE
Azure, two fire arrows crossed in saltire, enflamed proper, surmounted by an urga argent.
An urga is a catchpole, a looped rope attached to a long wooden pole and used by Central Asian and Siberian nomadic tribes to capture horses and sheep, often from the middle of large herds. Given the long history of herding by these peoples, the urga is probably a period artifact, although I haven't been able to find a representation of a period piece (wooden and rope don't tend to preserve well); the 13th Century Franciscan monk John Plano Carpini, emissary to the court of Chinggis Khan by order of the Pope, documents the large herds of livestock tended by the Mongols. A Buryat Mongol legend (which, given the nature of folklore and legend, I would hazard to say was being told to period listeners), "The Twins Sagaadai Mergen and Nogoodoi Sesen," mentions a character having a golden urga ( http://www.buryatmongol.com/sagaadai.html ). At the end of this citation is a probably non-period but traditional painting of a man on horseback chasing a colt, which he is trying to catch with an urga. From this illustration (and photographs I've seen), the rope of the urga is very simply tied to one end of the pole; there is apparently no noose or slipknot that tightens around the animal's neck.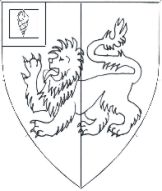 6. Denis of the Titans: NEW AUGMENTATION OF ARMS
Per pale vert and argent, a lion passant counterchanged, armed, langued and orbed gules and as an augmentation on a canton azure a whelk shell within a bordure Or.

The name and original armory was registered August 1971.
The Augmentation of Arms was presented by King Jonathon in May 2003. (The whelk shell on the canton represents an element of Count Jonathon's personal armory.)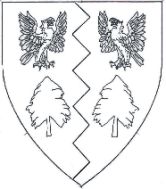 7. Diek Rabynovich: NEW DEVICE
Per pale indented vert and Or, in pale two eagles rising, wings displayed, and two pine trees, all counterchanged.
The name was registered August 2003.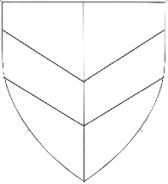 8. Dufen Eyðimörkingr: NEW DEVICE
Per pale vert and Or, a chevron inverted counterchanged.
The name appears in the December 2003 Atenveldt Letter of Intent.
9. Gallant O'Driscole: DEVICE RESUBMISSION from Laurel, August 2003
Per chevron vert and argent, two double-bitted axes argent and a compass rose sable.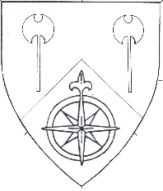 The name was registered August 2003.
The original submission, identical to this, was returned for redrawing, as there was a significant discrepancy between the full-sized emblazon and the mini-emblazon. This has been corrected.
10. Godfrey von Rheinfels: NEW NAME
Godrey is an English masculine given name, from the Old German Godafrid; this spelling dates to HR 1273 (p. 136, Withycombe, Oxford Dictionary of English Christian Names, 3rd edition).
Rheinfels is one of the Rhine castles, built in 1245 by Count Dieter V of Katzenelnbogen; it was destroyed in the late18th C. ( http://germany-tourism.de/e/2765_7276.html ).
It is anomalous, but permitted, to register an name with English and German element; the submitter prefers this originally submitted form of the name.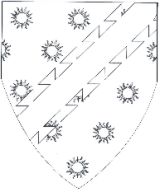 11. Godfrey von Rheinfels: NEW DEVICE
Azure semy of suns, a bend sinister dovetailed Or.
From Johan Redbeard, Azure semy of mallets argent, a bend sinister dovetailed Or., there is 1 CD for difference in type of charges in the semy (mallets vs. suns) and 1 CD for the difference in tinctures used in the semy (argent vs. Or).
12. Katalena Aleksandrova: NEW BADGE
Argent, a chevron vert and a bordure purpure.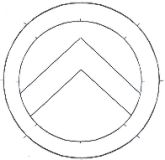 The name was registered March 2003.
13. Natal'ia Diekova zhena Rabynovicha: NEW DEVICE
Vert, an oak tree eradicated Or between flaunches Or, ermined vert.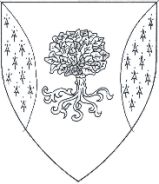 The name was registered August 2003.
14. Terence O'Quinlan: NEW NAME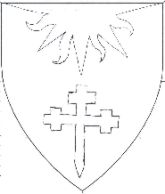 Withycombe gives Terence as a masculine given name derived from the Latin Terentius and notes that it isn't used as a given name aside from in Ireland, where it is substituted for the native Toirdhealbhach (pp. 275-6). Ó Corráin and Maguire corroborate, giving Tairdelbach as the early form of the masculine given name and Toirdhealbhach as the modern form, with a comment that Terence and Terry became popular with the O Briens (p. 169).
(O) Quinlan is the anglicized form of the Irish family name Ó Caoinleáin (p. 252). This seems a very reasonable (and spellable, and pronounceable) anglicized form of an Irish personal name.
15. Terence O'Quinlan: NEW DEVICE
Or, a cross crosslet fitchy vert and a demi-sun issuant from chief sable.
I was assisted in the preparation of this Letter of Intent by Knute Hvitabjö
This letter contains 3 new names, 1 new household name, 6 new devices, 3 new badges, 1 new device augmentation and 1 device resubmission. This is a total of 15 items, 14 of them new. A check to cover fees will be sent separately.
Thank you again for your indulgence and patience, your expertise and your willingness to share it.
 I remain,
Marta as tu Mika-Mysliwy
c/o Linda Miku
2527 East 3rd Street; Tucson AZ 85716
brickbat@nexiliscom.com
atensubmissions.nexiliscom.com

Commonly-Cited References
Black, George F. The Surnames of Scotland.
Geirr Bassi Haraldsson. The Old Norse Name.
MacLysaght, E. The Surnames of Ireland. Dublin, Irish Academic Press, 1991.
Miller, B., and K. Munday. The Pictorial Dictionary of Heraldry, 2nd Edition, 1992.
Ó Corráin, Donnchadh and Fidelma Maguire. Irish Names.
Reaney, P.H. and R. M. Wilson. A Dictionary of English Surnames, 2nd Edition, 1976, reprinted 1979.
Withycombe, E.G., The Oxford Dictionary of English Christian Names, 3rd Edition. London, Oxford University Press, 1977.